Hi there! I'm Tessa from Tales from Outside the Classroom!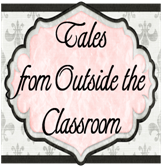 I'm so excited to be joining this blog! Because I started blogging as my school was already working on transitioning to the Common Core, all my items are created with the Common Core in mind. In fact, part of my job responsibilities this year include overseeing the Common Core transition in my building. I've already attended quite a few webinars, have been gathering resources, and am continuing to look and explore many others. I hope to share much of what I learn with you all here!
I live in Indiana and we began the transition earlier than many other states it seems. Last year (11-12), kindergarten implemented the CCSS. First grade implements it this year. Our kindergarten actually goes through all of the K and 1 standards each year. We have very long, full days, and our students come in with great background knowledge. This has helped me really get to know the standards for those grades already.
Partway through the first grade standards, the kindergarten teachers in my building commented that they felt their students needed continued practice on the skills from earlier in the year. They were beginning to forget bits and pieces. I looked for some resources that would help them review and wasn't able to find what we were looking for. I created these daily math warm ups to fill this need.
Each page reviews 5 different skills. The skills are aligned with the Kindergarten AND 1st grade standards. This was the perfect way for our kinders to review both sets of standards. I think it would also work perfectly at the beginning of first grade. Many kindergarten standards would be reviewed, with a few 1st grade standards being added in as you're learning them. Click on the pictures above to come over to my blog and learn more about the warm ups.
Oh, and did I mention that I have 4 pages for free? That way you can see exactly how they're set up! Come on over!